Jukebox Time is today featuring artist Big O's new full-length album. It is titled In the Company of Others and comprises riveting tracks such as A Cause for Concern, Vantage Point of View, Dark Bright, and many more stunning numbers. We were enthralled with A Cause for Concern which features artists L.O.U., and P-Rawb and has dynamic tones overlayed throughout the song. Do listen to it in a loop mode to comprehend the phenomenal transitions. Another marvelous track is Seen it All Before which features artists Lomax and Cosm is a cajoling track that has surreal vocals, mood-enhancing bass, and a strong varied sonic structure.
Our favorite Dark Bright has a tremendous vibe that is not easy to create. The synths, the panorama of sounds, distinct beats, and a mindblowing amalgamation of transitions with superb delivery!
The album has Trell Money, Abel Boquera, Dray Taylor, SKE, Shari, Fashawn and many more artists. Do listen to it now on Spotify!
Jukebox Time highly recommends this album.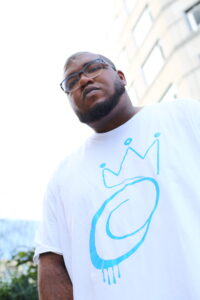 About the artist: Orlando Turner, better known as Big O, is an American hip-hop record producer, recording and mixing engineer & DJ representing the UK. He began to make beats at the age of 13 & has been creating music ever since. At a very young age, Big O has always been a traveler. From moving back & forth to Atlanta, GA from Birmingham, AL at a young age, to then moving to Orlando, FL to attend college at Full Sail University. He decided to move to Miami, FL to work in live audio. Being the ambitious man that he is, he made his way to The Bay Area by getting promoted in his audio job to continue working in live audio until he moved to Los Angeles. While in L.A. he worked on an independent film for the first time titled "Love, Art & Celibacy." In late 2013, he decided to move to Osnabrueck, Germany for a year.
For more details visit: big-o.bandcamp.com/album/in-the-company-of-others