Jukebox Time got a chance to interview R.L. Rogers in regard to his book The Curious Cases Ward. We got insights into his book, advice for aspiring writers and much more!
Q. Welcome to Jukebox Time! How are you doing?
R.L. Rogers: Doing pretty good, thanks.
Q. Your book The Curious Cases Ward is available on Amazon. Please tell us about your amazing book.
R.L. Rogers: My new book 'The Curious Cases Ward' is about sixteen individuals who survive horrific encounters with monsters and the like that land them in this strange and unusual place: the Curious Cases Ward. What this mysterious place is for and what their agenda is I'll refrain from spoiling.
Q. There are so many spectacular scenarios in your book. What inspired you to craft this wonderful book?
R.L. Rogers: Well, originally it was going to just be another anthology, but then I began to develop an idea for a 'big bad' that I could tie into future projects I'm currently working on. So I started driving the story in a different direction and began connecting these characters' experiences together, thus, the Curious Cases Ward came to be.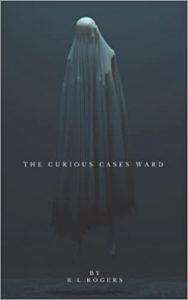 Q. Any tips or advice for inspiring writers?
R.L. Rogers: One of the toughest things for me when writing is fleshing out my ideas. My advice for other writers that might have this problem as well would be to do the things you love. For me, I love gaming. If I'm struggling to write, I'll use gaming as a sort of focus lens. It's enough of a distraction where my mind can space out for a bit, then the next time I think about my story, not only is my head clearer and refreshed from taking a break, but I usually get an idea or two from whatever I'm playing. Inspiration is everywhere. You just have to step back sometimes and breathe.
Q. Any daily writing mantra or schedule that you follow in order to stay creative?
R.L. Rogers: I don't know if it's at all true, but I once heard that Steven King writes six pages a day. I try to do something similar. Every day, I'll sit down and try and write at least a paragraph on a number of my other projects. It helps keep my mind in creative mode, and also helps jump start the ideas I need to complete whatever project is my main focus at the time.
Q. Finally, as we ask all our guests on Jukebox Time, do you have any closing thoughts that you would like to share with the world and our readers?
R.L. Rogers: I suppose all there is left to say is I hope you all enjoy the book, and I look forward to writing more works for you all to enjoy!
About the book: A series of strange and horrific events bring sixteen strangers together in a place like no other. What lies beneath the surface of the black sands? What lurks at the corner of Dream and Nightmare? Who's the stranger lurking out in the rain? Follow the journey of these unfortunate souls as they find themselves thrust into a world they couldn't have possibly imagined. The dead will return, and the stars will sing. Welcome to the universe. Welcome to The Curious Cases Ward.
"Small town author from Massachusetts. Originally, I was uploading short stories to the /nosleep subreddit and have been spotlighted on Creepypasta.com several times, but I have since moved over to self-publishing. My works have also been featured in multi-author projects, such as "A Cure for Chaos" published by Haunted House Publishing LLC. A thirty-author project, and a part of the Haunted Library series. You can also find a variety of my stories narrated on youtube.com by a wide variety of narrators." – R.L. Rogers.
The book is now available on Amazon!
Follow the author on his official social media for updates about new projects: