Books
Dave Matthes' new book 'Legend of the Horizon Vengeance' is due out in November!
"Leave My Ashes on Blackheart Mountain" is the first in a planned 6-book series taking place around two centuries after the collapse of civilization. Society has crumbled but mostly exists similarly to that of the old west, the 1800's to early 1900's. The six-book arc spans multiple decades and follows the main character Rancid Mahoney, a gun-for-hire, during the various stages of his life. "Leave My Ashes on Blackheart Mountain" was published last year, and the follow up, "Legend of the Horizon Vengeance" is due out November 29th, 2021. "Mercy", the chronological Book 3, is a novella, and is already available as originally it was intended as a standalone story. "Blackheart Mountain" and "Horizon Vengeance" take place roughly twenty years before "Mercy".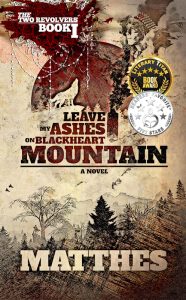 Order Leave My Ashes on Blackheart Mountain from Amazon now!
About the author: Dave Matthes was born and raised in Swedesboro, New Jersey. He has attended various colleges for computer engineering, automotive science and criminal justice-like degrees, though he is mostly self-educated in the subjects of World History, Philosophy, Political Science and Spirituality. During the day, he works as a service technician and system installer for the restaurant industry. He is a writer of prose and story-driven poetry and is the author of autobiographical books "The Slut Always Rides Shotgun", its sequel "The Passive Aggressors", his post-apocalyptic western series: The Two Revolvers Saga, and The Mire Man Trilogy. Dave presently lives in Brookhaven, Pennsylvania with his wife Sarah and their cat Hank.