Books
Interview with Samira Vivette, Author of 'Lavender Love Notes'
Jukebox Time got a chance to interview Author Samira Vivette in regard to her new book "Lavender Love Notes."
Q. Welcome to Jukebox Time! Your new book is now available on Amazon! Please tell us about your collection.
Samira Vivette: Hey, thanks for having me! My latest book, "Lavender Love Notes" is a poetry collection comprised of poems, quotes, and letters to ourselves and the fears we wish we could address. I wrote this book with the intention of providing a sense of calmness and relaxation for its readers, and it's a gentle 200-page journey. I wanted to highlight the importance of self-love, especially during the grieving, struggling, and learning phases of life, all of which are chapter themes.
Q. Why did you choose this title?
Samira Vivette: From the beginning, even before I began writing this book, I knew I wanted the cover to be purple to accompany the first which was pastel pink. As for the title, it just came to me one day while thinking of purple symbols. As lavender is universally known to represent healing and relaxation, and these were the emotions I wanted to encapsulate in this book, the rest sort of naturally fell into place. I associated the quotes, letters, and poems as 'love notes' because I felt they were exactly that: personal notes of love and encouragement.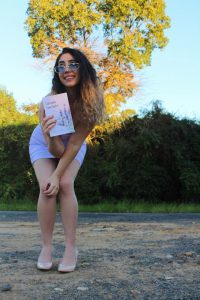 Q. How does this book differ from your first book Pastel Dreams and Glittered Hearts?
Samira Vivette: The major difference between the two books would be the themes. Pastel Dreams and Glittered Hearts was intended to be a rollercoaster of emotions with many darker poems and prose blended with inspirational quotes and hints of nostalgia. Lavender Love Notes is only comprised of feel-good poetry for the soul. Now that's not to say the first book wasn't a feel-good collection, but it did touch on some heavy themes. With this latest collection, you'll only be reading words of a gentle nature.
Q. Who do you think will be benefited from reading this book?
Samira Vivette: I will say everyone as a general answer just because I'm a big believer in consuming any kind of art that's uplifting, but for those especially who may be feeling lonely, isolated, or in doubt of their self-worth, I feel this collection will resonate. Having written this book during the pandemic, it's safe to say it can be relative to everyone in the present moment and onwards as the topics explored are universal and timeless.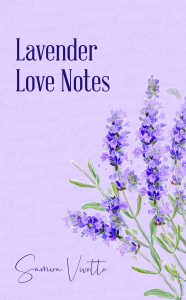 Q. Kindly share some insights about the four chapters in the book. The titles are intriguing!
Samira Vivette: Sure thing! The four chapters are: Love yourself while you struggle, love yourself through the grief, love yourself as you learn, love yourself and believe. The first chapter is quite 'gritty' and what I mean by that is when someone's struggling, you sometimes need to be a bit tough with your approach – so this chapter is a bit like the coach yelling in your face at half-time. It's going to spark feelings of motivation, power, courage, adrenaline. It's going to be that initial push that gathers momentum. The second chapter speaks about loving yourself while you grieve, and so, there are many emotional pieces and soft-spoken words in this section. This has the energy of allowing space to heal and mourn the loss of those you love, whether people or situations. The third chapter focuses on the learning process and the feelings of fear that may accompany it. This one is all about encouraging persistence, growth, and being comfortable with your mistakes. And finally, the last chapter's theme is the belief that follows the healing process. These final words are all about uplifting, motivating, and solidifying your strength to help you realize just who you are.
Q. What's next? Which project are you working on now?
Samira Vivette: I'm always working on bettering my craft, looking to diversify into different areas and widen the scope of my writings.
About the book: "Lavender Love Notes" will be the reassurance after a difficult day, a book to read while drinking your morning cup of tea. Melt into the pages and enjoy a variety of uplifting and inspirational words fused together with advice and tender reminders that everything is going to be okay, no matter what stage of life you're in.
"Lavender Love Notes" is the second collection from Samira Vivette, upholding a pastel purple theme: a poetry and prose book for the soul in need of comfort and understanding. With a variety of letters, reflective prose, quotes, and classical rhyming poetry within each chapter, its affirmations aim to soothe and inspire.
The book is now available on Amazon!