Jukebox Time got a chance to interview Cleofe Sandoval in regard to her book You And You Alone. We got insights into her book, her source of inspiration and much more!
Q. Welcome to Jukebox Time! How are you doing?
Cleofe Sandoval: Amazing, thank you.
Q. Please tell us about your wonderful new book You and You Alone.
Cleofe Sandoval: It's my memoir. My book was born of a wish to share what I've learned about relationships, especially with men. Through my healing journey, the most critical lesson became clear; I had to love myself. When I looked inside and loved what I found, I realized I'd sought approval and validation from men for most of my life.
You and You Alone is my story of acceptance, believing and self-love. I hope to inspire others through my journey of self discovery.
 Q. What inspired you to write this book?
Cleofe Sandoval: Two years ago, losing my mother became the inciting incident in my grief and healing process. I began journaling and discovered a sense of peace with writing. Soon after, I went through a relationship breakup which took me to realizing I'm worth more!
It wasn't long before I started crafting my book, You and You Alone. Writing is a beautiful commitment, and I sincerely believe people come into our lives at certain times to teach us things. Not all stay for a lifetime, and it is essential to take the offered lessons, whether good or bad as thankful blessings.

Q. Any tips, experiences or advise you would like to share with all the aspiring writers out there?
Cleofe Sandoval: As a leader who inspires others, I find myself pushing past the boundaries of any challenge that come my way, from being afraid of heights, I jumped off a plane to writing my first book and now it's published.
For me, it started with "I can't do this!" then came courage, "I'm doing this!" and the amazing experience and journey to "I did it!!!"
Keep moving forward, the view is so much brighter than the past!
Q. What's next? Which book or projects are you working on now?
Cleofe Sandoval: Enjoy my my family, career, and having a wonderful relationship with myself. Go deep-sea diving since I don't know how to swim.. Lol! Maybe write a sequel on "secrets that bind us".
Q. Finally, as we ask all our guests on Jukebox Time, do you have any closing thoughts that you would like to share with the world and our readers?
Cleofe Sandoval: Success is much more than just a dream or task on your To-Do-list. It's a way of life. Step outside your comfort zone, do things you're afraid to do. Don't build your home in others, you may just find yourself "homeless" one day. Embrace your own "crazy" and live life today, as there may not be tomorrow!
You and you alone have the power to take control, will you?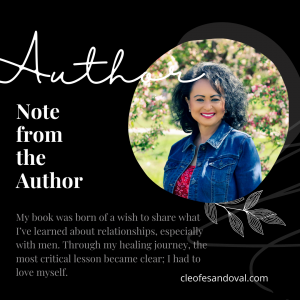 "You and You Alone is my story—I've been a foolish girl, I've also been wise on my path toward being my best self. The common denominator? I always loved others at my own expense. I don't regret my relationships, but it's not easy to reflect on this journey because it took many years for me to gain control of my life. But eventually, I healed." – Cleofe Sandoval. 
The book is now available on Amazon!
For more details visit: www.cleofesandoval.com