Jukebox Time is today featuring the latest album by artist GQueTv. The album is titled From Me To You and comprises of stunning tracks such as Riding Sporty, Fools Over Facts, Stay Down, New Crack and many more sublime numbers. The album starts with Riding Sporty which sets the tone for this musical extravaganza. Albeit the listener's expectations are quite high after his wonderful album Nice Try, Wrong Guy but it seems GQueTV seems to deliver on the musical front in this album for sure! The beats are exquisite with a heavy rhythm laden arrangement that is quite nonpareil. Add to that, the breathtaking delivery by GQueTv, and featured artists Ray jr. and Preme Dibiasi who did a phenomenal work in the single too.
Another marvelous track from the album is Fools Over Facts. As the name suggests the track has wonderful synth intro that has captivating delivery by GQueTv. In fact the composition is extremely distinct which has genre-blending sounds too. New Crack has simple beats that blends well with unique lyricism and fascinating flow. Stay Down (our favorite!) has a breathtaking arrangement and it seems GQueTv has given every bit of his creative juice from his super creative mind in this track. His vocal nuances are very unconventional too. Ending the album with a track like Stay Down clearly showcases the discrete creativity that is consciously implemented by the artist.
Overall, From Me To You is extremely different in comparison to his last album. We also loved the tonal variety that GQueTv has ingrained in this album. Refreshing melodies mixed with captivating vocals and brilliant tonality certainly allures the listeners. And probably this is the reason that tracks like Fools Over Facts and New Crack might be added onto many playlists across the globe. In fact, the laidback vibe with peppy tone are also entrenched rather cleverly by GQueTv. And therefore, Jukebox Time highly recommends this album.
From Me To You is now streaming on Spotify.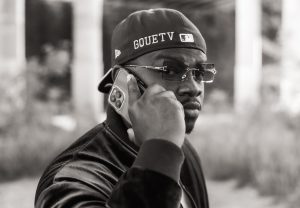 About the artist: GQue (short for GetEm Q!) is a songwriter/rap musician, born & raised Cleveland, Ohio native who has been writing & performing music since the age of 9. At the age of 11 years old he wrote & recorded his first song over the "Jay-Z – Anything" instrumental titled: " Tha Skool" & performed it at his school's talent show. His first official release musically was in 2011 the neighborhood critically acclaimed mixtape titled: "Climbing Trees" at age 17. As of recent GQueTv is still pushing the envelope and being creatively inclined, dropping new music, videos and online content to become the next big thing in the music industry!
For more details visit: www.gquetv.com