Inspiration
Featured: Kishema Pendu Malik's new book 'Diary of a Traveling Black Woman: A Guide to International Travel'
Kishema Pendu Malik is an international dancer/instructor/choreographer and now also a travel professional residing in Atlanta, GA. This is her first published book bedsides her Master's degree and hopes to continue to write more books.
Kishema Pendu Malik has traveled to over 30 countries as a dancer/choreographer/instructor and a few of her trips required her to stay long term. This book goes in-depth about her almost 3 month trip to Cape Town, South Africa living alongside locals while teaching dance at a Circus school. She is honest about the good, the bad and the ugly and gives tips on those that may be traveling to South Africa in the future. It's a quick, fun and honest tracker guide thru the eyes of a solo woman.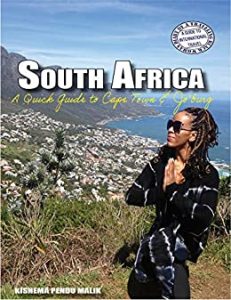 Diary of a Traveling Black Woman: A Guide to International Travel is now available on Amazon!