Jukebox Time recently got a chance to interview Anthony Juliano in regard to his book How To Overcome Bullying. We got insights into his book, his source of inspiration and much more!
Q. Welcome to Jukebox Time! How are you doing?
I am good thank you for having me.
Q. Your new book "How To Overcome Bullying" is wonderful. Please tell us about your amazing book.
The book is about my personal experience throughout school getting bully from elementary to middle and standing up to my Bullies. I wrote this book to help young kids and any adults that it's okay to speak up and get help.
Q. Any words of advice for aspiring children's book writers?
The advice I would give to aspiring children's book writers is to be creative find something that everyone can relate too and be connected with. When someone reads your book they will feel more connected with you if they went through the same experience has you.
Q. Who is your favorite author and why?
My favorite author has to be J.K Rowling because I am a big Harry Potter fan. I got every book and was reading them has they got release. Idk anyone who is not a Harry Potter fan. lol!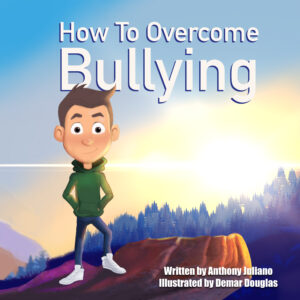 Q. Any daily rituals that you follow in order to stay creative?
My daily rituals is watching the wwe wrestling. Wrestling is a big part of my life. I learn so much from watching it just from the storytelling to the entertainment part of it. It is so cool to watch. It gets me so creative and gives me different ideas to write.
Q. What's next? Which book are you working on now?
Just getting my name and book out there to the world to make a difference and hoping to turn the book into a movie one day. I am still trying to figure out what is going to be my next book to write because I want it to mean something and help everyone out in life. It can be educational or life lesson or someone struggling in life that needs to read a book to help them with there struggles in life.
Q. Finally, as we ask all our guests on Jukebox Time, do you have any closing thoughts that you would like to share with the world and our readers?
My final closing thoughts would be to never give up on your dreams or any projects you are working on because we all start from the bottom and work our way to the top with dedication and determination.
About the Author: Anthony Juliano grew up in Brooklyn, New York. Anthony realized when speaking with his friends and coworkers that his experiences growing up in school were not isolated to him alone. He decided to put his story in first book. He plans to write more, each with a message that will help his readers overcome life's various challenges. He currently lives in Orlando, Florida.
The book is now available on his official website: www.anthonyjuliano.net