Jukebox Time recently interviewed author Craig Bradwell in regard to his book 'Table Talk At Trump Card Bridge Club'. We got insights into his book, his source of inspiration, and much more!
Q1. Welcome to Jukebox Time! How are you doing?
I am fine – life's great at the moment I get to play bridge once a week at my Grimsby Bridge Club and the rest of the week is looking after my beautiful autistic son and epileptic dyspraxia daughter.
Q2. Please tell our readers about your wonderful book Table Talk At Trump Card Bridge Club. The title itself is intriguing!
My Book Table Talk At Trump Card Bridge Club is about starting to learn the game of bridge from a young age. It explores the journey of four kids as they navigate learning the game of bridge transitioning from school to the actual Trump Card Bridge Club. It is based on actual competitions and events that actually happened at Grimsby Bridge Club and has realistic table conversations that would happen in any actual bridge club. The book is also based on my life experiences of learning the game from a young age.
Q3. What motivated and inspired you to write this book?
I was motivated to write this book as a dedication to Grimsby Bridge Club past and present members as the Club once had a membership of 300 in the 80s and had some glorious years and sadly its now down to its last 12 members including myself. It also honors famous bridge players of the past as well. I also wanted to highlight the power of Youth Bridge and how valuable it is and how especially in Grimsby its nonexistent and I would love all schools to have bridge on the curriculum so if this book helps somehow achieve that that is what motivated me to write the book as well as wanting my own Grimsby Bridge Club not to be lost to the times of history.
Q4. Any tips or advice for aspiring writers?
Aspiring writers should write about what they know and believe in and never hold back on what they want to say.
Q5. What's next? Which book or project are you working on now?
Yes, I have just published my first book in the regretful teaching series and the second one is due out around the middle of November "The regretful bridge player teaches how to unlock the secrets of Stayman and Transfers". I am also in the process of collaborating with a ghostwriter to publish my autobiography due out Xmas 2024.
I also have an interest in history and am putting together a series of books based on WWI but that is a long-term plan after the bridge teaching series is finished.
Q6. Finally, as we ask all our guests, do you have any closing thoughts that you would like to share with the world and our readers?
Life is too short to waste on not going after what you believe in so don't put off what you want to do and get on and do it.
About the author: Introducing Craig Bradwell, a debut author from the charming, known fishing town of Grimsby in the United Kingdom, whose journey into the world of literature is as inspiring as his life experiences. Born and raised in Grimsby, Craig's passion for storytelling began at a young age and has finally found its way to the printed page. At 11, Craig discovered his love for the game of bridge during a summer activities program at his local secondary school, which has remained his constant passion. He proudly remains a cherished member of his beloved Grimsby Bridge Club, a testament to his enduring dedication to the game. Craig's path to becoming an author was anything but conventional. His adventurous spirit led him abroad as a timeshare representative, a chapter of life that added depth and diversity to his storytelling palette. Amid these life adventures, Craig is a divorced, loving, caring father to two remarkable children, Levi and Lexie. Levi, his autistic son, and Lexie, who battles dyspraxia and epilepsy, have been his guiding lights, inspiring him to embrace the beauty of uniqueness and the power of unwavering love.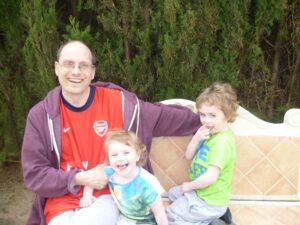 Craig Bradwell's debut as an author is a testament to the transformative power of personal experiences. His storytelling has authenticity, empathy, and a deep understanding of the human condition.
The bridge card game book covers various aspects, including witty banter, learning bridge, humorous anecdotes, camaraderie, strategy, and game love. Readers can better understand the game's dynamics and strategy as they follow the bridge card game book. For bridge beginners, the book revolves around Craig, Emily, Sophie, and James. Their journey from novice players of the game to expert members of the prestigious bridge-playing card club adds depth to the narrative.
Order your copy now: Table Talk At Trump Card Bridge Club