Today, Jukebox Time is shining a spotlight on artist T. Ledger's eagerly anticipated upcoming album. Although T. Ledger has strategically withheld the release date, sparking a whirlwind of curiosity among music aficionados, we were granted an exclusive first listen. And the results? Simply mesmerizing. The album, aptly titled "Mist", boasts an impressive 18 tracks, each bringing its own distinct flavor and unmistakable charm.
Opening the sonic journey is "Melt", already a hit with over 3000 plays on SoundCloud. Throughout the album, T. Ledger expertly interweaves compelling arrangements with a splash of daring experimentation, ensuring listeners remain on the edge of their seats. With tracks like "Priceless" featuring Rallyeon, as well as "Hangover" and "Epiphany", T. Ledger's free-styling prowess shines.
However, the instrumental masterpiece "Insomnia" stands out. As the title suggests, it brilliantly captures the tumultuous essence of insomnia, painting a soundscape that's both chaotic and riveting. Elsewhere, "Whiskey On The Roots" has garnered over 2000 plays and showcases T. Ledger's departure from mainstream musical norms, cementing his commitment to artistic authenticity.
The album's hallmark, though, is undoubtedly its experimental core, evident in tracks like "Gotta Say" and "Lol". Their deliberate, seemingly disjointed arrangements are a testament to T. Ledger's creative genius. Guitar (Instrumental) features artist DJ Aye and has once again cohesively dispersed tonality that is not easy to recreate. Lastly, the title track Mist evokes a mood that is not easy to tap into! T. Ledger has certainly brought unique music for music lovers. But a word of caution to listeners: don't dive in expecting the familiar. This album promises a sonic experience unlike any other.
Don't forget to follow T. Ledger's social media, not just for updates on the album, but also to feast your eyes on his artwork.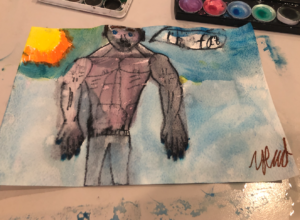 Keep an eye on his SoundCloud for updates about the album!
About the album: Originally planned as an EP, this collection has transformed into a full-fledged album, blending both old and new tracks—akin to the structure of "International Superhits" by Green Day. With collaboration from his pals in Elsternwick from his new hometown of Melbourne, Australia, it has taken on a life of its own. The album, titled "Mist," will be released in the coming months once the label, Wild At Heart (a music service catering to individuals with disabilities), finalizes the details. Stay tuned and prepare to enjoy!
Official SoundCloud: T. Ledger
Official Instagram: T. Ledger