Jukebox Time got a chance to interview Dr. Gerald Smith, Jr. in regard to his book Unshackled and Unashamed. We got insights into his book, his source of inspiration and much more!
Q. Welcome to Jukebox Time! How are you doing?
Thank you very much for your time. Thank you so much for asking.
Q. Your new book will be available on Amazon soon! Please tell us about your wonderful book. What inspired you to write this wonderful book?
I have noticed the void in single and married people alike who have struggled to find their "personal" identity. We must examine the causes of insecurities and the effects on our individual lives, and how we can eliminate them.  Overcoming these insecurities will allow you to develop and avoid traps for bad decisions about relationships and life.
Q. Any daily writing mantra or tips you follow to stay creative?
I try to capture my passion for writing from time to time. I take this opportunity to concentrate on my passion and pray for your guidance. After that, once I decided to write, I have a daily discipline to write some amount per day. I believe it is in the small simple steps that yield major results in our lives.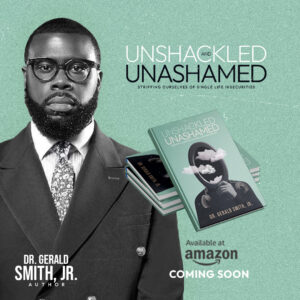 Q. What's next? Which book and projects are you working on now
I continue to pray and meditate about what is to come. I am working on another project and I am trying to make sure that it will have an impact on readers.  Usually, before I complete a project, I already have another one.  Looks like this is the way it works with me and my passion.
Q. Finally, as we ask all our guests on Jukebox Mind, do you have any closing thoughts that you would like to share with the world and our readers?
I want my new book "Unshackled and Unashamed" to inspire and make a difference in the world. I want singles, married and divorced people to know that healing and fulfillment starts with you as a single person. Each day continue to endeavour to work on yourself internally so that you can be the best version of yourself.
About the author: Dr. Gerald Smith, Jr., currently resides in Charlotte, North Carolina. His call is to teach others how to apply the principles of the Word of God to bring lasting change to their lives. He empowers and imparts God's Word into the lives of those who are hurting, rejected and lost.