Books
Interview with Jenni Lorraine, Author of "The Sourwood Mountain Series"
Jukebox Time got a chance to interview Jenni Lorraine in regard to her upcoming book The Sourwood Mountain Series. We got insights into her book, her source of inspiration and much more! 
Q1. Welcome to Jukebox Time! How are you doing?
Jenni Lorraine: I am doing great! It's a beautiful day here where I am and I'm hard at work on several fun projects, so I'm in my element. Thanks so much for taking the time to interview me!
Q2. Please tell our readers about your upcoming book series The Sourwood Mountain Series.
Jenni Lorraine: The Sourwood Mountain Series aims to be a collection of trilogies in the murder mystery genre, but with each trilogy told from the perspective of a sort of unlikely hero. The first series, which is the Tess Trilogy, its official release in December.
The Tess Trilogy is told from the perspective of a little girl who actually starts out the book recounting a traumatic event in her own life, which has sort of shaped her view of the world. She has dealt with this tremendous pain in her short life by absorbing herself into this fascination with folklore and monsters, which has resulted in her assembling a team of other kids to help her prove that some of these creatures of lore really do exist and live in the woods surrounding their rural community.
As they're looking for proof of monsters, though, they stumble upon the skeleton of a young woman. This event sets forth a murder investigation and a subsequent chain of events that really changes not only Tess, but the whole community in a very profound way. During the investigation, the local sheriff realizes he just doesn't have the evidence he needs to form any worthy conclusions about what has happened, but he knows that Tess and her friends have been in the woods gathering their own clues that they think will prove the existence of monstrous creatures. He winds up turning to the kids for help.
It's a very serious subject matter, but the fact that it's told from this child's perspective aims to add levity to it and it really becomes a commentary on the resilience of children and a societal tendency to disregard the feelings and opinions of children, often to our own disservice.
The first book of the Tess Trilogy is called Tailypo and releases in Paperback, eBook, and Audiobook on December 17th, however it is available to read in weekly installments right now via a subscription to my Patreon.
Q3. What inspired you to write this amazing book series?
Jenni Lorraine: There are multiple inspirations at play here.
I would say the backdrop of the series is definitely inspired by my dad. He suffered from a stroke in February of this year and has unfortunately lost a lot of his cognitive ability to string stories together, but in his prime he was undoubtedly the greatest storyteller I've ever met- and that's saying a lot since I've worked in the industry for two decades.
Dad never wrote any books, but he had the ability to draw a crowd when he'd start talking. He had a very storied life and there was a certain grit to the stories he'd tell about his life. He came from very humble beginnings and made his way up in the world through blood, sweat, and tears but never lost his love of the underdog. He always rooted the little guy.. so the desire to set this series in these small, rural mountain towns with unlikely heroes at the forefront really came from him.
The Tess Trilogy is inspired by my daughters. There's a little bit of each of them in the Protagonist. Of everything I've ever done in my life, being a mom has been my favorite adventure and the accomplishment I'm most proud of, so it only made sense to start with them.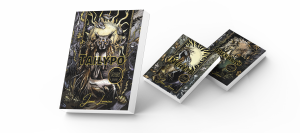 As far as why it's a series of murder mysteries.. that part's probably inspired by all the weird TV I watch. My husband likes to joke that I watch so many True Crime murder documentaries he's afraid to cross me because I could probably do it and get away with it at this point.
Q4. Any writing mantra or daily ritual that you follow in order to stay creative?
Jenni Lorraine: I set a timer and write for an hour every day.
I had a teacher in high school who pulled me aside once and told me that I was a good writer and that I should treat it as seriously as the athletes treated their talents. So that's what I've always done.
Q5. What's next? Which book or project are you working on now?
Jenni Lorraine: All three books of the Tess Trilogy will release within the coming year. There is another trilogy in the works right now that will release after Tress is fully out, but it's under wraps for now.
Q6. Finally, as we ask all our guests on Jukebox Time, do you have any closing thoughts that you would like to share with the world and our readers?
Jenni Lorraine: Just be good to each other and good to yourselves. Love you all. Drink water. Behave.
About the author: Jenni Lorraine came screaming into the world from the hickory sticks of Dickson, Tennessee in the spring of 1984. Her father was a truck driver. Her mother was a homemaker. Born into a family of storytellers, Jenni started writing tall tales in Kindergarten from the darkness of a shared bedroom as a means of lulling her baby sister to sleep. She would continue to write stories and poetry in yellow notebooks until eventually discovering she could make a living ghostwriting.
For more details visit: