Books
Interview with JR Weaver Author of 'The Addiction Manifesto'
Jukebox Time got a chance to interview JR Weaver in regard to his new book "The Addiction Manifesto."
Q. Welcome to Jukebox Time! How are you doing?
JR Weaver: I'm doing great, glad to be here sharing the message of recovery to everyone.
Q. Please tell us about your book "The Addiction Manifesto."
JR Weaver: It's a 'special' book but most likely not many people outside of Charleston have ever heard of it and chances are it won't be on the NY Times best seller list anytime soon because I talk about the dark things in life that society wants to ignore, drug addiction. The book covers my 1st year of sobriety and the constant challenges that I had to deal with in early recovery (personal, professional, medically and legal).   People think recovery is only about staying sober but it is so much bigger than that, it's about recovering in life.  I think it's a great read for anyone that has family suffering with addiction or anyone new to recovery.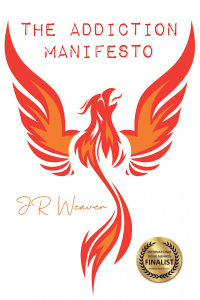 Q. What motivates you and inspires you in your life?
JR Weaver: I'm passionate about helping others find their way back from addiction. I know how they feel and I want them to know that help is out there. I work in a VA Hospital and I am surrounded by other vet's that are struggling with the exact same issues that I struggled with, and I want to show them that there is a better way, recovery is possible.
Q. Any tips or advice for aspiring writers who want to share their own personal experience with the world?
JR Weaver: Just pick up a pen and start writing, even if somedays you only write 1 paragraph, keep plugging away.
Q. What's next? Which book are you working on now?
JR Weaver: I've been debating on starting a new project that puts faces to their recovery stories, meaning the contributors will share a pic with their story, I think the readers would really enjoy seeing the person behind the story.
Q. Finally, as we ask all our guests on Jukebox Time, do you have any closing thoughts that you would like to share with the world and our readers?
JR Weaver: Thank you for allowing me to share a little bit about myself and my amazing book (on sale 7-16-21 Amazon and Barnes & Noble – I had to plug it at least once lol) I'll close with one of my favorite quotes from MLK,
"If you can't fly then run, if you can't run then walk, if you can't walk then crawl, but whatever you do you have to keep moving forward."
About the Author: JR's writings are deeply influenced by his life experiences where he bounced from the streets and prison. After getting out of the army in 1990, JR ran the streets for about 20 years. Due to drinking, he failed out of college and when alcohol was no longer working, he switched to hard drugs. While sitting in his jail cell, JR did something he thought he would never do. He picked up a pen and paper and started writing about his addiction. He had to stay in that cell for 90 days and all throughout those days, he was consumed with writing everything that has happened to him. JR graduated drug court with no issues and even became their guest speaker in their annual state conference in 2019 and 2020. He also spoke as a guest speaker in the 2018 VetTalkX. Moreover, JR was the finalist for the 2020 International Book Awards in the "Health – Addiction & Recovery " category. Also, on May 27, 2021, he celebrated his 2nd year of federal employment at the hospital he got sober at. During JR's last stint in jail, the pages he wrote became the Addiction Manifesto. To know more about his journey, pick up a copy now!
The book is now available on Amazon!