Jukebox Time recently got a chance to interview Kaitlan C. Farrior. We got insights into her new book, her source of inspiration and much more!
 Q1. Welcome back to Jukebox Time! Your new poetry book "The Transfer: The Last Teardrop" is amazing! Kindly share some insights into the book.
This book was a refresher for me. This book showcased a few things in my life that I transitioned from. While I was writing, I saw this post that gave me confirmation that it was going to be okay. The post asked this "Have you ever had to grieve over the loss of a possibility?" and I was like that's ironic because I am writing a whole collection on having to reroute, having to find new answers, new surroundings, new people because the old plan is no longer plausible. Whether it's poetry or just me talking, I feel like this is my last door to close and finally move on without issues. The Transfer is definitely an acknowledgment and a "okay it happened, it happens, and we are good to put this down and be okay with that"
 Q2. What inspires you in your daily life?
Once again, everything inspires me. Whether it's the things that happened or the things that didn't happen. Most of my writings come from inspiring stories in life, I get inspired indirectly mostly. I am good at understanding, and I write from a point of view that isn't embarrassed or ashamed of the context. It's okay to write a little taboo or write what people think and may not say.
Q3. Any words of advice for aspiring poets?
Just write, don't worry about formatting. I swear everyone wants to be an art critic. They want to critique writing like it's an academic paper. Poetry is everything, it's a flow of your words regardless of the format because sooner than later it'll fit into one or another type of poetry. If not those, it'll be a free verse. Write for yourself and if people like it, that's a huge plus. Don't let anyone tell you that your art isn't good enough because it's most likely a projection because your art is your experiences spilled onto the earth for people to see. And they can see something else if it's not for them because we don't write for everyone.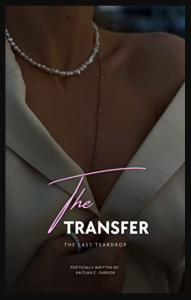 Q4. Who are your favorite poets and why?
First and foremost, I am in love with Ms. Nikki Giovanni. She is conversational! She is beautiful and unapologetic. I have used her flow to write some of my works. It's good to talk to someone and not talk at them and my work is full of… let me share with you instead of throwing my words at you. She writes from experience; she writes about things that matter. And I love her for it. I love her poem "choices" please check that out.
Q5. Any daily writing mantra or tips that you follow in order to stay creative?
I just encourage people to write, draw, speak, and do when they feel like it. Doing something when you feel it will always be more genuine. Forcing actions really don't end well. In order to stay creative, you must stay true to yourself and your plans. Going off of other's expectations or milestones won't get you anywhere. Be the forerunner for your own dreams and works.
Q6. Finally, as we ask all our guests on Jukebox Time, do you have any closing thoughts that you would like to share with the world and our readers?
Time is precious, take yours and use it for you first and whatever is left over share it with those who also share the importance of time. Not everyone will be on the same wavelength and it's not your job to put them on yours, we do what we want for who we want and when we want and once again time is precious and it's okay to transfer your time to someone or something else.
About the author: Kaitlan C. Farrior is new to the block author who hit the ground running soon as she came on the literary scene. So far, Farrior has been able to publish a variety of poetry books and hit best-selling charts on amazon. She has eBooks, paperbacks, hardcovers, audibles, blogs, and more. Kaitlan plans on getting more into novel writing and seasonal writing.
The book is now available on Amazon!