Los Angeles, California, 09/22/2023 — New York based artist Jackson Reese has created a wave in the musical realm with his latest offering – an album titled "Days of Summer". Combining his wonderful EPs titled "Days of Summer Side A", and "Side B" and adding new tracks, this new amalgamation ideally showcases his artistic flair. The album clearly conveys that audacious summer vibe while one is drenched in a pool of creative sojourns. Albeit, that is what Jackson does with his new music. Literally taking listeners on a creative, i.e., sonic journey, he provides an exemplary vibe. Gushing through tracks like "Days of Summer (Intro)", "Down For Me", "Heartbreak Summer", and "Vacations", the seamless blend seems to cajole. The artistic embrace of multi-genre aspects in songs like "Int'l Reese II" and "I'm Good" is apt, concrete, and audacious.
What makes Jackson's music a classical amalgamation is the experimental trajectory with a distinct aspect of tonality that is varied. It really seems to stem from his bold expression and the rawness of exploring the cascades of musical realms that are hard to climb onto. Fresh, peppy, and extremely luscious is the tone that sparks forth from "Days of Summer". Add to that the exuberant blend of his riveting sounds and synth spectrums that are just brilliant. His vocal tonality is addictive and captivates us in a unique way. Like a branch of a tree that embraces the bystander, Jackson seems to hold listeners' attention with wonderful delivery and a natural expressive flair that is hard to miss!
Music lovers will certainly find a touch-and-go of numerous genres and quite rare mixes such as alternative rock and smooth rap, which seems to be his territory! The present-tense form is his domain and fusing multiple musical elements is his powerful weapon.
Embarking on a kaleidoscopic journey, traversing the ebbs and flows of NYC life, Jackson truly flaunts a mantle of unyielding confidence and celebrates the enchanting pull of distant horizons.
Without further ado, dive into this madness and experience the wonderful summer.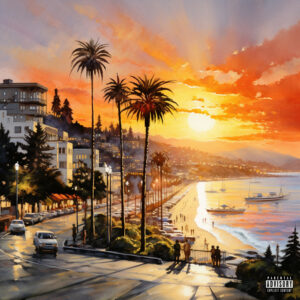 The album is now streaming on Spotify and Apple Music!
About Jackson Reese: Caribbean born, New York City based Jackson Reese meshes smooth Rap and R&B vocals over his own self-made productions. Captivating the interest of many, his style, wit and lyricism are reminiscent of past greats but packaged in an updated present-tense form. Influenced by old school hip hop artists but also alternative rock and r&b acts, the multi-talented artist, producer, singer / song writer and engineer blends these into a well put together hip hop act with catchy and moving songs
For more information on Jackson Reese: