Jukebox Time is today featuring Patrick Alan Casey's breathtaking new album titled Sunday Songs, Vol. 1 which is slated for release tomorrow. Yet we got a special sneak peek (or shall we say exclusive early listen!) and the experience was nothing short of electrifying. Cover songs, often dismissed as simple retellings, require an artist to climb a towering peak of expectation; they must not only honor the original but also reimagine it, infusing it with their own essence. Patrick does precisely this in the album. Especially with a rendition of the famed "Rolling In The Deep." His vocal caliber elevates the track into the celestial realms, his intonation and arrangement weaving a mesmerizing spell.
"Titanium" is another gem within the album that showcases the splendor embedded in Patrick's voice. In "Alone," his nuanced delivery pulls us into an auditory experience that's both intimate and expansive. The track "Fix You" stands as proof of Patrick's ability to reinvent and claim songs as his own, his evocative timbre resonating with a unique vibrancy.
Our personal favorite, "Leaving California," is a testament to structural experimentation—subtle yet undeniably potent in its vocal delivery. "The Sound Of Silence" sets a new standard for the album, a track that imprints itself upon the listener with undeniable presence.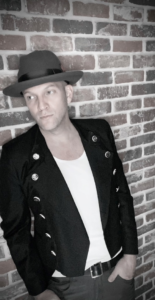 What becomes apparent is that Patrick Alan Casey brings something genuinely refreshing to the table—a signature, you might say. Each track had us riveted, anticipating the next twist and turn of his musical journey. Truly, this album is a marvel.
Keep an eye on his official website for updates about the album. Immerse yourself in the creative maelstrom Patrick has crafted; it's a whirlpool of innovation that's bound to captivate music enthusiasts and fans alike.
Jukebox Time doesn't just suggest you listen to this album—we insist on it!
Stream the album from his official website now: patrickalancasey.com/epk-for-media
About the artist: Patrick has established himself as one of the most engaging and versatile performers on the music scene today, adapting a unique piano style to his signature vocals and powerful songwriting. Currently performing and recording with his band as well as solo performances, Patrick has sold out the major venues all over Los Angeles such as B.B King's Blues Club, The Roxy Theater on Sunset, and the Viper Room, just to name a few. Patrick has also performed internationally in over 12 countries and in cities such as Paris, London, and Florence, in St. Paul's Cathedral and in the Madeline in Paris. 
About the album: The new album SUNDAY SONGS, Vol. 1 was born out of the concert series every Sunday evening at his studio in Los Angeles. The song selection is voted on by fans each week, and this album is made up of the favorites of the last year. The weekly series is streamed on all social media platforms and has amassed over 10k watchers per week.