Jukebox Time is today featuring Songwriter Jeremy Hilliard's new musical offering! A collection that promises to captivate and inspire listeners with its innovative sound and emotional depth. He certainly rocks the scene in his new album titled Trouble for Another Day, which is set to leave a profound impact on listeners. We were granted an exclusive sneak peek and found ourselves awestruck by its daring boldness. The album kicks off with "And We Said Goodbye to Ourselves," featuring intriguing guitars that draw us in with their dynamism. "Body of a Man" is an enigmatic piece, rich in distinct lyricism and masterful arrangement, with a structure that infuses the track with a mellow vibe. "American Blue" diverges creatively from the earlier tracks, its sheer vibrancy captivating the psyche, and its lyricism shining once again.
"Swallowed by the Jungle" (our personal favorite!) delivers a splendid vibe that ensnares with its sonic power. The guitars are exceptional, and the subtle transitions inject an unmatched vibrancy. The peppiness of the track conjures an extraordinary atmosphere.
"Lay Down Like Lovers" is another spectacle on the album, woven with an evocative essence. By the time "Arc of Night" plays, it's clear that Jeremy Hilliard has orchestrated a remarkable musical odyssey. The album resonates with cohesiveness and a fantastic story told through music. The real gem of "Trouble for Another Day" is Jeremy's artistry, particularly his vocal delivery—a raw and honest portrayal that's increasingly rare in today's music scene. His lyric-focused approach may hint at Bob Dylan's influence, yet Jeremy charts his own course.
The contributions from Marshall Norton on keys, Brendan Hefty's drums, Josh Carter on bass, and Bethany Hilliard's vocals are also stellar.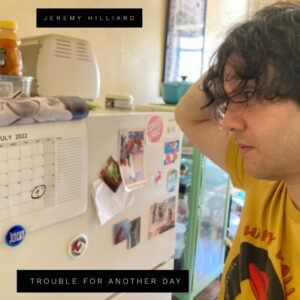 Trouble for Another Day is a thoughtfully crafted enigma and it harmonizes perfectly with the everyday rhythm of life. Whether you're working from home, strolling in the park, or navigating traffic, this album adapts to every situation, offering solace in musical form.
We highly recommend streaming this album, now available on Spotify and featured on our official playlist too!
About the artist: Jeremy Hilliard is a Songwriter living in Brooklyn New York. Most of his time is spent writing recording and touring with his band PEAK, an up-and-coming jamband performing regularly in the northeast of the United States. He writes way more songs than his band could ever use, so he began putting out collections of his home demos a few years ago on Bandcamp and Soundcloud. 
For more details visit:
www.jeremyhilliard1.bandcamp.com