Jukebox Time recently got a chance to interview Whitney Huskey in regard to her book What's My Missing Piece? We got insights into her book, her source of inspiration and much more!
Q. Welcome to Jukebox Time! How are you doing?
I'm doing wonderful! So thankful for this time in history to bring such a pivotal book into the market for families that will be loved by generations.
Q. Your new book is set to release soon. Please tell us about your amazing book 'What's My Missing Piece'. The title itself is intriguing!
'What's My Missing Piece?' (Mr. Leaf's and Mr. Root's Story) is the first in this delightful-thought-provoking series.  A Jewish root and an Arab leaf both go on an adventure to discover what they are each missing— a bigger part of themselves and a mysterious character found in the centerfold where both stories end. Along the way, they encounter valuable friends and family who give them clues about what the 'missing piece' might feel, sound, or look like. Each main character comes to a climactic turn where their world begins to change and they finally meet a very familiar, yet possibly new character. So many early readers have fallen in love with the rhythmic style, brightly colored illustrations, and all the hidden gems awaiting discovery throughout the book. This book is truly loved by all ages.
Q. In your book, you explore the concept of finding one's purpose. Could you share a pivotal moment in your own life that led you to discover your purpose and how it influenced the writing of this book?
Remembering a time around 11 years ago, I found myself at my climatic moment when my entire world was changed. Everything I had ever wanted to be or become, what I went to college for, suddenly came to an unexpected stop. I was a Co-Senior Pastor alongside my husband at an Assemblies of God Church. At our church, we pastored, and we began an after-school program where the local elementary school bussed kids to us once a week. We were living our dream of serving God and a beautiful group of people. We went to a conference at ORU where they were speaking on bridging the gap between generations. We had met some leaders who invited us to their conference in another state.  After 6 months of visiting this church a few times, praying, and receiving counsel, we left our pastoral credentials and moved to serve under a ministry that had a heart for Israel. Within the first two weeks after the move, I found myself wrestling with God for purpose. I asked Him, "If this leadership has a heart for Israel then you must want me to have a heart for Israel too. What is my part?" In the middle of the night, I was abruptly awakened by a clear whisper in my spirit to what appeared to be 3 titles. I knew immediately that He had answered my heart's cry.  By hearing the title, "1 New Kid" (my now business name), I knew this was about Israel. Soon I discovered that God wanted me to create a family version of One New Man, bringing Jew and Gentile together, no longer having a separation between us. I also heard, "What's My Missing Piece?" which is my book series. Within that same week of finding myself wrestling for purpose in all of this, I heard a Rabbi pray on television, and the most unusual, yet incredible thing happened. My eyes filled with tears while my heart began to ache for the Jewish people. My life was forever transformed.
I began an even deeper dive of discovery by asking what God's heart is and how I can be a part of His plan. I have met the most captivating, precious people along the way that have helped shape my heart to know we all need each other. This began an 11-year journey of experiencing God's unconditional heart for the Jewish people. I hope through this book that you will discover your purpose too; knowing God's heart for your life and how to help others find theirs.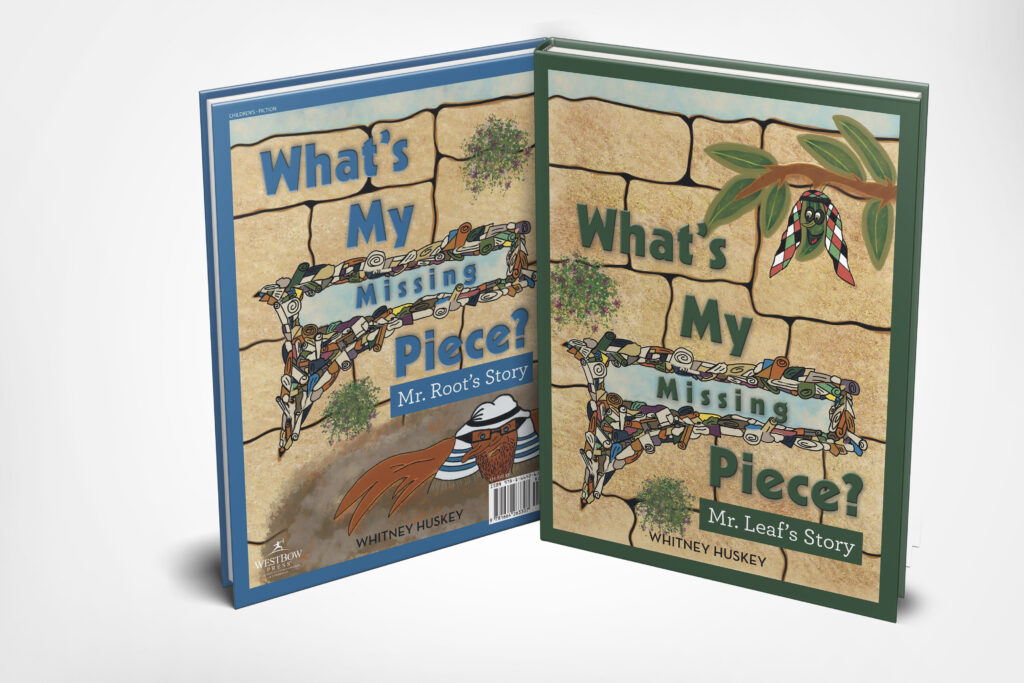 Q. Any words of advice for aspiring children's book writers?
Your dreams can become a reality and no dream is too big. You would be amazed at how much you can accomplish by writing out your plans, continually researching the unknown, and creating a little bit each day toward your dream. There are so many amazing author resources and you will find what works best for you. I think of Ms. Frizzle's learning philosophy, "Take chances, make mistakes, get messy!" You won't do everything perfectly, but it's in those chances and all the above that gives you courage to never quit and believe the best in yourself, your dream, and in the One who gave you the dream. You can do this! God believes in you!
Q. Any daily rituals that you follow in order to stay creative?
To continually ask and respond to God's heart throughout the creative process! No matter the hour or how small or big the task at hand might be, continually ask for His heart.
I have a daily fun list I created on my phone's notes app. I typed out Sunday-Saturday and added my goals/fun list that I would like to accomplish each day. I try to put the list in order of priority. For the things that I don't like to do as much as others, I aim to do them first to make sure they get done. Throughout my day, I continually delete the goal when finished or move it to another day. Before the day ends, I assess my list adding, deleting, or moving around what I wasn't able to conquer that day. I also have different goals in categories for helpful reminders. I have used this for many years and I am able to accomplish a great deal through this method making BIG dreams into daily bite-size portions.
Q. What's next? Which book are you working on now?
I'm so excited for the second book in this series to come out! The second book in the What's My Missing Piece? series will be a story featuring Mr. Rain (father figure) and Mrs. Well (mother figure) as readers dive into America on one side of the story and Israel on the flip side. They will celebrate the beauty of the two Jewish holidays Shabbat and Havdalah which honor the fathers and mothers who have gone before us to pave the way for generations to come.
Q. Finally, as we ask all our guests on Jukebox Time, do you have any closing thoughts that you would like to share with the world and our readers?
My brand, 1 New Kid, No One Wants To Play Alone— bridges the gap between generations and cultures through entertainment and education. It has become an avenue to bring people together and restore hearts, including my own. "What's My Missing Piece?" (as others have said) is more than a book series. I have seen Jews, Israelis, Arabs, Christians, educators, parents, grandparents, children, teens, ministers, rabbis, and political leaders be thrilled to read and see this book become available. We are really more alike than we are different. Through our strengths of similarities, we can begin to unite and truly bridge the gap towards healing and restoration. We can all begin again and go on our own daily discovery of our 'missing piece.'
About the author: Whitney Huskey is a wife and mother, teacher, and author/illustrator who also develops children's curriculums. She lives in Kansas City, Missouri—Go Chiefs and Royals! She has been a co-senior pastor and children's pastor and served in various roles working with children and their families. Thus, her heart is to see children and families grow stronger together through community, faith, and love for God and each other. She enjoys reading, singing with children, Israeli dance, learning the Hebrew language, and exploring different cultures of the nation's families. She especially loves reading children's books, taking adventures to parks with her family, and spending time with God and friends.
The book is now available on Amazon:  What's My Missing Piece?
For more details visit: www.1newkid.com