Jukebox Time got a chance to interview James Trait in regard to his book Shadow Link. We got insights into his book, his source of inspiration and much more!
Q. Welcome to Jukebox Time! How are you doing?
Doing well! Thank you for having me.
Q. Please tell us about your wonderful book Shadow Link.
Shadow Link is a family friendly sci-fi adventure. I love various Star Trek series', as well as Doctor Who. The Adventures we're clean and made me think about moral issues. At the same time I wanted a story that told the realities of how mental illness affects people and their families. My book follows an adventure of relatable characters trying to deal with both their mental issues like Depression or OCD, their broken families, and the terrors of the unknown. It is truly family friendly with no language, sex, and clean action.
Q. What inspired you to write this book?
I grew up in a family that struggled with mental illness, and loved science fiction. So I wanted to write a story that deals with these issues, and explains (in a sci-fi way) why mental illness is so rampant in our day.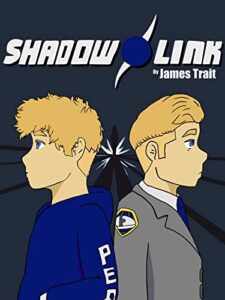 Q. Any tips, experiences or advise you would like to share with all the aspiring writers out there?
Get good friends who will honestly critique your work. And even if you don't get published be proud of what you have written. Most don't even succeed in writing their first book. That is an accomplishment in itself.
Q. What's next? Which book or projects are you working on now?
I'm working on a sequel to Shadow Link. And I'm considering writing a kid series as well.
Q. Finally, as we ask all our guests on Jukebox Time, do you have any closing thoughts that you would like to share with the world and our readers?
I hope you all get a chance to read Shadow Link. This world is rough and makes us all feel small. My book focuses on how we all struggle but we can keep going and even improve on what we've been taught.
"I grew up loving science fiction and the adventures the characters had together. It helped me to escape the craziness of life and to see that there will always be better times ahead. My science fiction reflects both the adventure and the family elements I loved growing up." – James Trait.
The book is now available on Amazon!