Jukebox Time got a chance to interview Author Jamila Avalon in regard to her book Who's the Prettiest Girl in the World?. We got insights into her book, advice for aspiring writers and much more!
Q. Welcome to Jukebox Time! How are you doing?
Jamila Avalon: I'm doing well! Thanks for having me!
Q. Your new book Who's the Prettiest Girl in the World? is now available on your website. Please tell us about your amazing book.
Jamila Avalon: This book was actually inspired by a mantra of sorts that my mom had me say all the time when I was younger. She would always ask me "who's the prettiest girl in the world?" And I was always supposed to respond "me!" A few years ago we were having a conversation about that and she shared that it wasn't about looks but a reminder to hold yourself to a high standard and know that being pretty is not about how you look but what makes you amazing and the confidence to be who you are. So this book reminds young girls just that: to always know they're the prettiest girl in the world and therefore there's nothing they cannot do!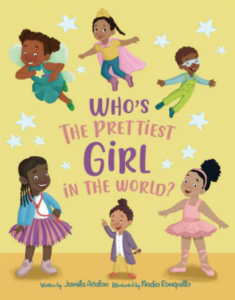 Q. Any words of advice for aspiring children's book writers?
Jamila Avalon: Find someone to hold you accountable. Writing a book is not a school assignment- there is no deadline. So if you put it off no one will hold you to it. But when we're at our lowest or most unmotivated, we need that person to say "Hey, what's going on with the book?", to get you back on track.
Q. Who is your favorite author and why?
Jamila Avalon: Priscilla Shirer – I love how her writing is so personal and personable. She meets every reader where they are.
Q. What's next? Which book are you working on now?
Jamila Avalon: Nothing just yet but stay tuned because the ideas are definitely flowing and will come soon!
Q. Finally, as we ask all our guests on Jukebox Time, do you have any closing thoughts that you would like to share with the world and our readers?
Jamila Avalon: Writing a book has always been a dream. I never really thought was possible though and that is the reason it never happened. Believe you can, trust yourself and see it through!
About the author: Jamila Avalon is a Christian author of fiction novels, poetry, and children's books. She was born and raised in Brooklyn, NY with Afro-Latina roots from Panama and Costa Rica. She is happily married to her high school sweetheart (and father to her beautiful daughter Ava), Devon Charles. She earned her Bachelor's in English from Queens College, CUNY and Master's in Higher Education Leadership & Research Methodology from Florida Atlantic University. Over time, writing for Jamila has evolved from an outlet to express her thoughts to a way to encourage, inspire and entertain others. Her passion has led her to publish her first 2 books in 2022, a fiction novel (A Good Life) designed to inspire people to live their best lives and a children's book (Who's the Prettiest Girl in the World?) intended to uplift young girls to know their value. 
The book is now available on her official website!