Jukebox Time recently got a chance to interview Jimmy Blakemore. We got into insights into his book, his favorite book, and much more!
Welcome to Jukebox Time! It's wonderful to have you back. How are you doing?
Jimmy Blakemore: Thank you so much for having me back! I am doing pretty great. I have been working on my class work and realized that I will be finishing up my bachelor's degree in just under a year. Then, I received an invitation to become a member of Sigma Tau Delta, which is an English language honors society. So, I am super excited about those!
Your book The Dead Writer's Society's third edition is out now! Please tell us about your amazing new edition.
Jimmy Blakemore: Well, I am still working on it. I always felt that something was missing from it. So, I decided that I would bring it back to the drawing board and try to figure out what wasn't there. I think I have figured it out, and there are going to be some darker scenes than we read in earlier editions.
Any specific reason to release a short story instead of a full-fledged novel?
Jimmy Blakemore: I would say it all comes down to preference. Both a novel and a short story are the same in that they both have a beginning, middle, and end. However, short stories move much faster than a novel. As writers, we have to get to the point while making it just as interesting as a novel. But I also feel like the short story is a dying art form. It isn't as popular, and publishers don't seem to care for them either. That is why I want to help preserve this art form by creating my own stories to share with the world.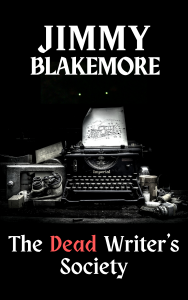 What is your favorite TV show and your favorite book right now and why?
Jimmy Blakemore: Oh, this is a tough one. So, I just finished watching that new Dahmer series on Netflix. It was fantastic. They did an amazing job at retelling the story, and Evan Peters really brought Jeffrey to life. As for my favorite book, I would have to say there are two. The first one is Everything's Eventual by Stephen King, and the other one is called 100 Years of the Best American Short Stories. Again, I am a huge fan of short stories.
What's next? Which book or projects are you working on now?
Jimmy Blakemore: I am still working on "The Sound of A," and the first draft will be finished within a few weeks. Then I will be working on a more lighthearted piece that is set in the eighties about a guy who gets a brand new computer, then something happens, and the computer becomes sentient. But my main genre is still horror.
Finally, as we ask all our guests on Jukebox Time, do you have any closing thoughts that you would like to share with the world and our readers
Jimmy Blakemore: Remember to follow your dreams. All it takes is some hard work and persistence. You can achieve anything you set your mind to, so long as you stick with it. It doesn't even matter when you start in your life. You could be 13 years old or 80 years old and still make your dreams happen.
About the author: Jimmy Blakemore is a horror, suspense, sci-fi, and crime short-fiction writer. He spent most of his childhood being homeschooled by his mother. This allowed him to study what interested him the most: English grammar, writing, and foreign languages. Born Valentine's Day, he had a passion for the darker side of life from an early age. As he grew older, he became interested in dark, gothic poetry and the works of Stephen King. He published his first ever short story, THE DEAD WRITER'S SOCIETY, on Amazon Kindle. Currently, he is working toward obtaining a B.A. in Creative Writing and English at Southern New Hampshire University and is a member of the Horror Writers Association and the Authors Guild.
The book is now available on Amazon!